Tuition & Financial Aid
When you consider what is included in your tuition at Annunciation, you can see that you're making a great investment in your child's future. Consider the following:
Our kindergarten through second grade classrooms include a teacher and classroom aide; that's typically a 10-1 student to teacher ratio.
Learning Spanish as a second language is included in your tuition. Not an add-on or after school activity like other schools.
We offer two recesses per day to enhance the learning process.
Children participate in annual service projects to give back to our community.
Our highly acclaimed Creative Arts program builds confidence and leadership skills.
As an IB World School, your child will learn how to learn vs. memorizing content for a test.
Listed below are our 2021-2022 tuition and financial aid options.
TUITION 2021-2022 Grade K-8:
| | | | |
| --- | --- | --- | --- |
| | | Parish Investment Rate | Standard Rate |
| | 1st child | $5,735 | $6,795 |
| | 2nd child | $5,320 | $6,380 |
| | 3rd child | $4,815 | $5,875 |
Please click here for more detailed information about tuition, fees and deadlines: Annunciation Tuition for 2021-2022 School Year
In the event a student is admitted to or is withdrawn from Annunciation after the school year begins, tuition for the entire semester in which the student is admitted or withdrawn will be assessed.
Continued enrollment at Annunciation School will be dependent upon full tuition payment, unless arrangements are made directly with school administration.
As per Annunciation School Council policy, those who fail to comply with the tuition collection process, either in-parish or out-of-parish, will not be admitted back to Annunciation the following school year.
Families are responsible for all processing, late and insufficient fund fees.
PARISHIONER STATUS
A Parishioner Investment Rate is available to full time Annunciation parishioners who have been formally registered in the parish and meet the following criteria:
Time: Attends Sunday Mass at Annunciation Catholic Church on a routine, regular and on-going basis.
Treasure: Recognizes the financial obligation and responsibility to the parish by participating in the Stewardship Program (envelopes or EFT options available.) We are a tithing parish. Based on the Word of God, we invite all of our parishioners to give back 10% of their income to God. 5% of one's income is given to God through the parish church. The other 5% can be used for Catholic school tuition, special diocesan collections, supporting missionary work, parish capital projects, private Christian charities you wish to support, etc.
Talent: Actively participates in Annunciation Parish and School activities and ministries.
K-8 FINANCIAL AID
Financial Aid:
We want to help your child reach their potentiality through a Catholic school education - tuition should never be a barrier. Tuition assistance is offered to new and returning students through our Help-A-Student Fund. To be considered for aid, each family is required to complete a TADS financial aid application EACH YEAR. The application serves for all students in a family, unless there is a split household, in which case, each household must submit their own financial aid application. There is a $35 fee to process this application.
Financial Aid Timeline:
January 11:TADS financial aid applications become available for the 2021-22 school year. We encourage you to begin the financial aid process early using your 2019 tax return and your most recent pay stub.
February 26:Online TADS financial aid application deadline. Include supporting tax and income documentation. (If 2020 taxes are not completed, a preliminary application may be completed using 2019 tax information.) Financial aid applications will be accepted after this date, but aid will be distributed to these applicants first and then to later applicants, as funds allow.
April 16:Financial aid deadline to update with 2020 year-end tax information and documentation (if not provided by the February 26 deadline).
April 23:Financial aid awards emailed to families and applied to TADS billing accounts.
Scholarship Applications Now Available for the 2021-22 School Year!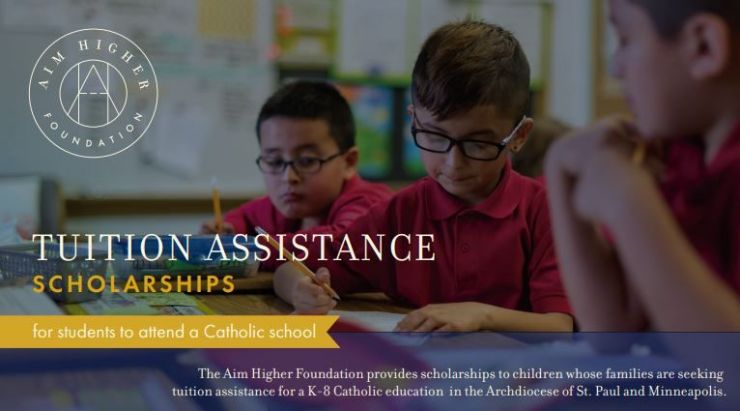 The Aim Higher Scholarship is awarded to students from families seeking tuition assistance. The scholarship follows students from Kindergarten through 8th grade and to other Catholic schools.
For new applicants, the CSAF/Aim Higher Scholarship is awarded to five students from families with the most tuition assistance need per eligible school.
Please click HERE to learn how to apply. Deadline to apply is February 20, 2021.