New Student Registration
Annunciation Enrollment Process
Choosing a school for your child is an important decision for every family. It can also seem complicated the first time around. To help, we have simplified our enrollment process to give you a sense of what you can expect along the way.
We host two separate Preview Nights for incoming students: one in October for students in grades K-5; and one in February for students in grades 6-8.
These are a great introduction to our school and a unique preview of our classroom experience and teachers.
While these are not required, we encourage you to attend if you can.
Step 1: Take a Tour
Year round, we host school tours for families. Parents visit all areas of the school and will have a chance to meet with our principal, Kari Zobel. This meeting is an informal and valuable opportunity to ask questions and learn more about Annunciation.
Schedule a Tour Today!
Tuition Letter 2020-2021

Step 2:
Complete the Enrollment Application

The enrollment application deadline for first round consideration is January 2020. Enrollment applications received after January are considered dependent on availability.
Current Annunciation families with an incoming Kindergartner need to complete the following enrollment process to ensure their child's place in the class.

Kindergarten students: Please submit preschool screening either with your application of mail it to the school office (Attn: Jen Renstrom). If you have not already done so, please schedule your child's preschool screening with your public school district.

Transfer students: Please sign and deliver a record release form to your child's current school. This authorizes your child's present school to send Annunciation a copy of your child's school records.

Transfer students will also need to shadow an Annunciation student for a half or full day, depending on grade level.

We will not be able to make a decision on admission until we receive your child's preschool screening or school transcripts.
Step 3: Admission decision from Annunciation School
After January, all completed applications will receive an email from TADS with a link to complete the enrollment process.
This will happen within a week of receiving the application.
If a position is offered to your child, you will need to complete the tuition agreement and submit a nonrefundable $200/family tuition deposit within two weeks of receipt.
Upon receipt of a tuition deposit, we will hold a place for your child.
If your family would like to apply for tuition assistance, please complete the financial aid application along with your most recent tax returns and supporting documentation by February 29.
Late tuition assistance applications will be considered, dependent on funding.

There is a $35 fee to process this application.
If a class is full, applicants will be automatically placed on the wait list. If you do not wish to be placed on our wait list, please notify Jen Renstrom at 612-823-4394 x204 or jrenstrom@annunciationmsp.org.
If the class does not have an opening by the fall and you would like to remain on the wait list, please notify Jen Renstrom regarding re-application and request the re-application fee waiver code. Dates and fees are subject to change. Please call Jen Renstrom to confirm dates.
Preschool at Annunciation School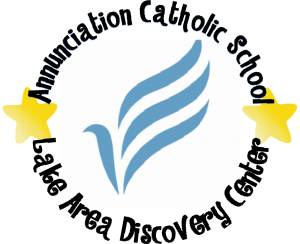 Annunciation's Discovery Center provides customized part and full-time programming, including extended care, for children ages 3, 4 and 5 years old. Our 4-year degreed licensed teachers provide high-quality kindergarten-readiness experiences. Registration is now open for the 2018/2019 School year. Summer W.O.W. registration (12 weeks, June 1-Aug 21) opens Feb 3rd.