Our Mission
Believing all people need a Savior, we are called to PROCLAIM the Good News, and to offer a life-changing ENCOUNTER with Jesus. As a community of His disciples, filled with the Holy Spirit and loved by our Heavenly Father, we seek to BE CHRIST in all we do.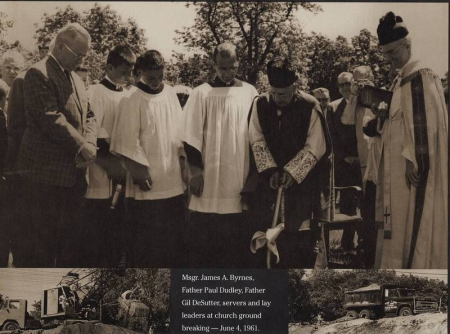 A strong bond with the community.
The parish of Annunciation was created by Archbishop Dowling with the appointment of the Rev. Francis J. Lang, as pastor, on September 8, 1922. The first parish Mass was offered on October 1, 1922.
Within a year, this young community occupied the first rooms of a new church-school building, which still serves our community well. On August 5, 1923 the first liturgy was offered in the building, and on September 10, 1923, four Dominican Sisters opened Annunciation School, with 72 pupils enrolled.
The Post-War Boom, 1945-1960, brought the challenges of rapid population growth and expansion. On December 16, 1962, the first Mass was offered by the community in a new worship space.
In the last 30 years, the community has set about implementing the views of church life and ministry that flowed from the Second Vatican Council. Programs flourished in liturgy, lay participation, adult education, and youth ministry. Staff positions were added and ministries multiplied.
These decades of change were also ones of challenge as the community became smaller but more secure in its sense of being a church and more skilled in embracing the diversity that is one of the hallmarks of our church today.
In 2013, Visitation Parish merged with Annunciation as part of the archdiocese consolidation to create an even more vibrant Catholic Community in South Minneapolis. Through the merger, our congregation has grown, and we now share artifacts from Visitation to carry on the Visitation tradition in our Parish.