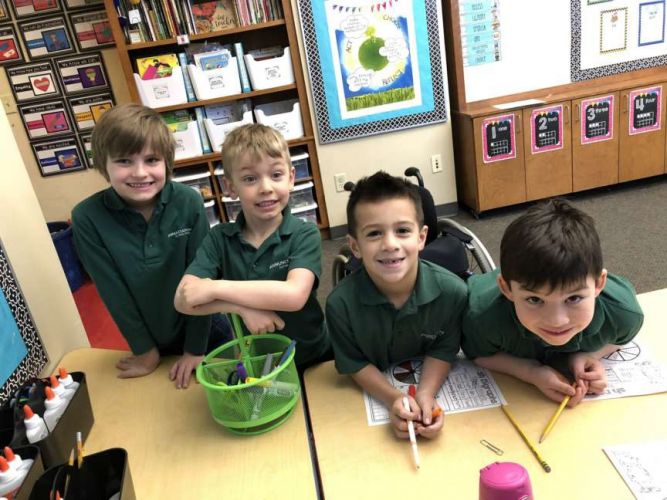 Kindergartners explore academic content, such as mathematics, science, social studies, and art through hands on learning.
We also focus on social curriculum through dramatic play, peer interactions, and free play. Technology also has a place in our classrooms. We believe kindergarten should be academic focused as well as experiential.
In kindergarten we begin Fundations, a phonics program that supports our reading program by providing daily lessons that focus on:
letter formation
print knowledge
alphabetic awareness
phonological and phonemic awareness training
This program has helped our students begin to read as early as kindergarten.
Students strengthen their relationship with God and religion is interwoven into the daily curriculum. Prayer and meditation are part of our daily routine.
Kindergarten has two classrooms; each classroom consists of a licensed teacher and an instructional aide providing a 12:1 student to teacher ratio.
Curriculum Highlights
Reading and writing workshops are differentiated and student centered programs. Both put our students on the fun and exciting path of becoming lifelong readers, writers, and thinkers.
Learning in science and social studies is hands-on and is designed to enhance the children's natural ability to develop a meaningful sense of observation and wonder.
Teachers lead differentiated math groups based on skill ability and multiple intelligences.
Children learn the value of diversity and develop a strong sense of curiosity about our brothers and sisters around the world and in our own community. Spanish instruction in kindergarten exposes children to a culture other than their own and encourages an understanding of diversity.
As a faith community, Annunciation is committed to learning, based on Christian values. The religion curriculum teaches the importance of Catholic traditions and children are taught to live their faith and lead by example.
Kindergarten Curriculum
IB Themes for Kindergarten