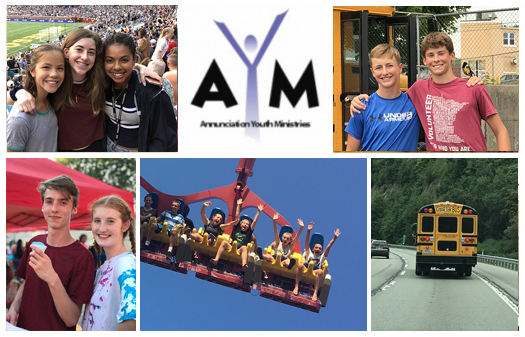 Dear Friend,
I would like to share some of the good news at Annunciation Youth Ministries. For the last 18 years, it has been my pleasure to serve Annunciation Parish as Director of Youth Ministry. I have seen life-changing and Christ-centered mission trips, rewarding faith-filled retreats, and service projects where the youth experienced the joy of being the hands and feet of Christ.
With influences from the media, destructive personal choices, demanding lifestyles, and negative peer pressure, youth today are yearning for role models, boundaries, and the chance to live out their faith. The mission of AYM is needed more than ever. Annunciation Parish has the most extensive youth ministry program in Minneapolis. I have seen tremendous growth, expanded programming, and increasing volunteer leadership.
Here are some highlights from the last year:
A Life Changing Mission Trip to Philadelphia, Pennsylvania.
Meaningful and Christ Centered Retreats for JH & SH youth.
Eight High Energy and Fun Recreation Events.
40+ Peer Ministers to help lead JH youth Group.
Switching to an online registration system and email newsletter.
Even with all these accomplishments, however, we are faced with the challenges of meeting the needs of some struggling youth and answering the increasing requests for financial aid. To meet these challenges, in 2005 we established the "AYM Dream Maker Fund" to help meet current needs and fund our future growth and dreams.
Your help is needed to make this dream come true! Please consider donating to the Dream Maker Fund. Your donation will go a long way in supporting the ministry and programs at AYM. Our goal is to raise $10,000 this year.
Donate to the Dream Maker Fund

On a personal note, thank you for understanding the importance youth group has on the lives of the youth within our parish and south Minneapolis. Your generosity makes my job that much easier and allows my goals to become a reality. On behalf of the youth and myself, may God richly bless you now and always.

Director of Outreach & Community Life