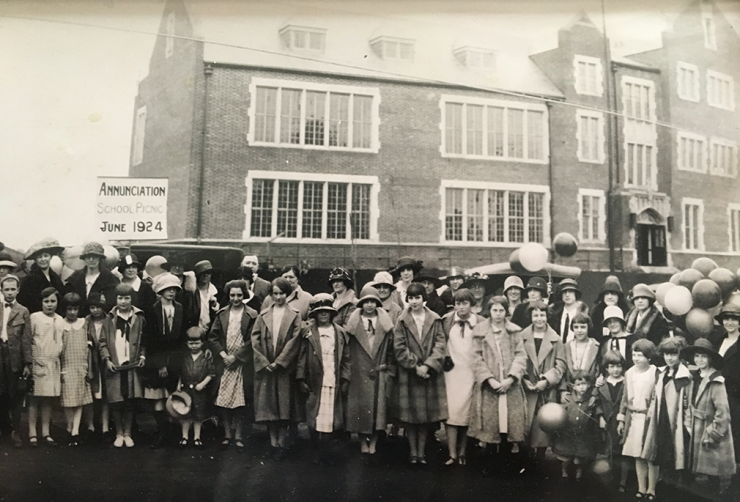 Serving South Minneapolis since 1923
The parish of Annunciation was created by Archbishop Dowling with the appointment of the Rev. Francis J. Lang, as pastor, on September 8, 1922. The first parish Mass was offered on October 1, 1922.
Within a year, this young community occupied the first rooms of a new church-school building, which still serves our community well.
August 5, 1923: First liturgy was offered in the building.
September 10, 1923: Four Dominican Sisters opened Annunciation School, with 72 pupils enrolled.
April 1925: Construction begins to expand school building and large auditorium.
Auditorium served as church until 1963. First mass in auditorium was Oct.19,1925.
1932: School enrollment grew to over 430.
October 1949: Convent completed , 3 story brick structure housed 22 nuns of the Sinsinawa Dominican Order.
1954: School addition completed adding 8 classrooms. Currently the Middle School.
December 1962: Present day Church was completed.
1964: Enrollment peaked at 1,100.
1994: Dominican Sisters ended 71 years service
Annunciation School received International Baccalaureate (IB) accreditation in 2018 while maintaining our strong Catholic heritage. IB accreditation enhances our tradition of values-based learning and outstanding academics.
Through an inquiry and action-based approach to learning and teaching, we are helping to develop responsible, disciplined problem-solvers, ethical citizens, and compassionate, creative leaders who change the world.