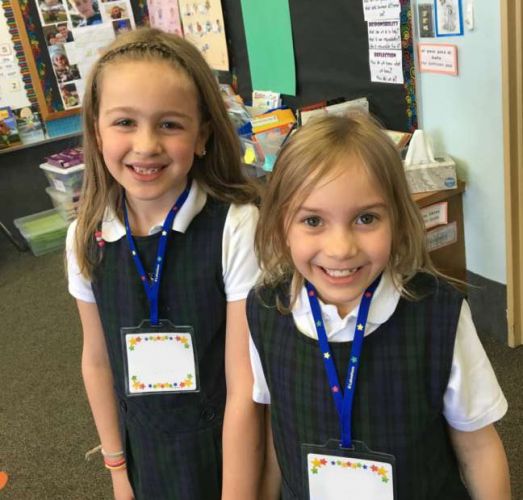 A large emphasis of first grade is developing and enriching reading and writing skills.
Reader's and Writer's Workshops encourages readers to be challenged at their reading level through small group work and individual conferencing. Our phonics program, Fundations, supports our reading program by providing daily systematic and explicit lessons that focus on word and sentence structure.
In math, our major focus is on addition and subtractions skills. We also incorporate telling time, money, fractions, geometry, and problem solving. First graders focus on building a classroom community by following in the footsteps of Jesus. In Religion, we study Baptism as well as the Holy Trinity. We pray together several times a day and spend time in the chapel every week.
Curriculum Highlights
Through Creative Arts, every first grader has a starring role in the Christmas Program. During our Creative Arts classes, we learn songs and lines for the show.
Academics include Spanish, Science, Social Studies, Creative Arts, Gym, Art and Library.
First graders have access to technology including iPads, Promethean whiteboards, document cameras and a computer lab.
Field trips include a Christmas play, Science Museum, Mill City Museum, the Minneapolis Institute of Arts, and Pine Haven Farm.
A highlight for first graders is pairing up with our 8th grade buddies. We attend Mass, read together, and do art projects throughout the year.
IB Themes for First Grade