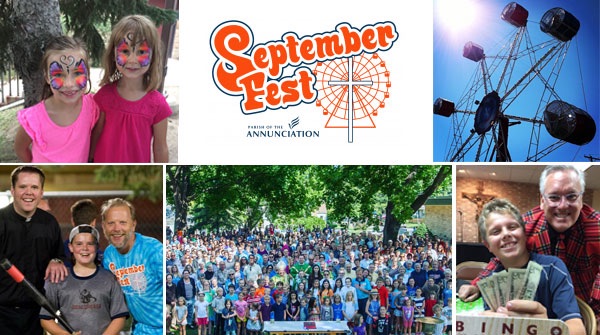 September 17-19, 2021
SOCIALLY DISTANCED Week Filled With The FUN Only SeptemberFest Can Bring!
Facebook Live Events: Sept. 12-19
Limited Space In-Person Events: Sept. 17-19
Special Events

SeptemberFest Live on Facebook Live - Tune in each night starting Sunday, Sept. 12 from 7:00-7:30pm.
Do you want to celebrate with us Live at Septemberfest?! Well, here's your chance! We have only 10 seats per evening available where you can be part of Septemberfest from September 12-19. For $50 a person, you get to enjoy your choice of a themed cocktail (for those of you who prefer beer or wine, there are flights of each and for those that prefer, there are non-alcohol options). There will also be other surprise goodies, but best of all, you will get to be there live for the dunk tank and be part of SeptemberFest Live!

Dunk Your Favorite Teacher or Staff Member
Bidding starts Sept. 1 and closes Sept. 11.
Sunday, September 19th • 9:30 Mass on the Lawn
Wiffleball Championship Sunday
*Social Distance Guidelines Must Be Followed.*
We are selling 5 games on Sunday afternoon from 12-5pm.
Social distancing is required and all gear will be sanitized between each game.
Purchase your spot in Championship Sunday!
Huge Raffle
Three CASH prizes! Grand Prize $5,000, 2nd Prize $750, 3rd Prize $250!
Winners announced after Mass on Sunday morning. Turn your raffle tickest in by Saturday, Sept. 11.