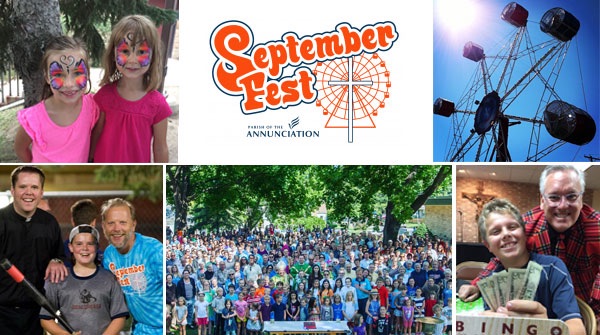 September 18-20, 2020
All Weekend Long (Fri 6-9 PM, Sat 12-9 PM, Sun 11:30-3:30 PM)
Carnival Rides • Live Music • Food Tent • Pie Shop • Beverage Gardens • Wiffle Ball Tournament • Kids Games (Saturday & Sunday) Silent Auction (Saturday & Sunday)• Farmers Market (with fresh produce Sat & Sun)
SeptemberFest started as a Parish anniversary party and has become our largest annual community gathering. There is something for the whole family from carnival rides and games, live entertainment and music, bingo, silent auction and raffles. Homemade and antique farmers market treasures, home run derby and Wiffle ball tournament. Great food all weekend including pie and our Sunday tradition outdoor Mass.
Join the excitement, energy, and enthusiasm of our community. All are welcome!
Special Events
Friday, September 18th 6-9 PM
Kids & Adult Home Run Derby • Food Truck • Bingo
Saturday, September 19th 12-9 PM
Dolce Vita Italian Dinner by Fat Lorenzo's • Saturday Night Main Event • Raffle Winner Announced at 9 PM ($5,000 Grand Prize)
Sunday, September 20th11:30-3:30 PM
10:30 Mass on the Lawn • Breakfast Burritos & Coffee after Mass • Bingo
Huge Raffle
Three CASH prizes! Grand Prize $5,000, 2nd Prize $750, 3rd Prize $250! Winners announced at 9 PM Saturday night from the music stage.
Volunteer
Set Up/Clean Up
Silent Auction
Farmer's Market
Food Booth
Pie Shop
Bring a Pie
Cashier Table
(Credit Check & Background Check required)




Games
Kindergarten
1st Grade
2nd Grade
3rd Grade
4th Grade
5th Grade
6th Grade
7th Grade
7th Grade- Pie Shop
8th Grade
8th Grade- Pie Shop



Quick Links
Friday Night Dinner - Food Truck - See Will Call
Saturday Night Dinner - Dolce Vita - See Will Call
Discount Ride Tickets - See Will Call
HR Derby - Adult
HR Derby - Youth
Wiffle Ball Tournament Team Registration - Closed
Bean Bag Toss Tournament
Pre-Sale Beverage, Food & Game Tickets - See Will Call
Join Us
2020 Septemberfest Co-chairs

Jaime and Amy Smith
612-710-8000
Matt & Kelly Meyer
612-827-7717
Sponsors