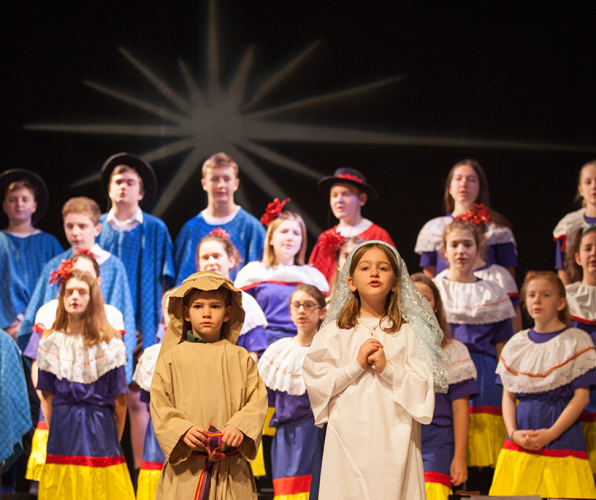 We believe there is an important relationship between the arts and the total life of the student, both in and beyond the school's environment.
Our Creative Arts curriculum integrates music with movement, drama, art and literature. The opportunities to perform and participate help children build self-confidence and become comfortable with public speaking.
Our Creative Arts program is well-recognized as an important part of the Annunciation community and the community at large. The annual Christmas Program and Improv show are major events each year at our school.
We also offer weekly art classes, Art Adventure (an art appreciation course offered through the Minneapolis Institute of Art), Artist in Residence, the opportunity to participate in Destination Imagination, an annual Projects Fair, an international yearly Carnaval, with students creating a remarkable multicultural art work, and an after school Improv class.

Christmas Program
With a new theme each year, all of the students at Annunciation School participate, with first-graders in the starring roles. Students begin preparing for the Program, learning songs and their roles, from the first day of school until the performance just before Christmas.
Improv Show
Middle-schoolers learn how to brainstorm ideas and interact with others as they explore themes, emotions and role playing. They then share their work in a performance on stage in the spring.