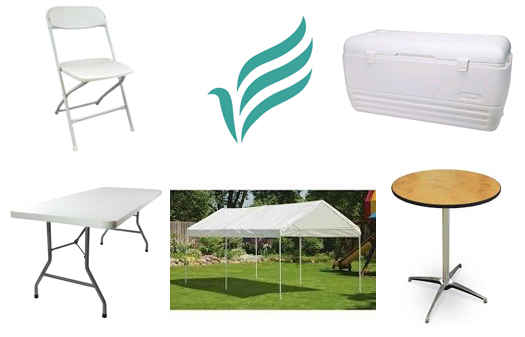 The Perfect Solution for...A High School Graduation Open House
Annunciation Parish has a large supply of tents, tables, chairs and coolers from our Parish festival Septemberfest. The perfect solution when it rains and an answer for guests looking for a shady spot to sit. Weather will no longer be a factor for your celebration!
For a donation to the Annunciation Dreammaker Fund which is an endowed fund supporting AYM (Annunciation Youth Ministry & Annunciation Young Adult Ministry) will handle the delivery, setup and equipment takedown for your party.
Here is a list of items we provide:
• 10 x 20 ft. White Canopy Tents (Tents are weighted so they can be placed on driveways)
• 8 ft. x 2.5 ft Rectangular Tables (Industry Standard)
• 60 inch Round Tables (seats 8 comfortably)
• 36 inch High Top Tables
• 5 ft. White Beverage Coolers
• White Metal and Plastic Folding Chairs
If you would like to request a booking please use this link to provide more information.
WE ARE COMPLETELY BOOKED FOR THE 2022 SUMMER SEASON AND NO LONGER TAKING REQUESTS!
2022 PARTY REQUEST

After submitting your request you will be contacted by email either confirming your party or notifying you that we have no more availability for that date.
Approximately one month before your party our tenting crew will conduct a walk through to finalize all plans.
THANK YOU for including Annunciation in your party plans, we looking forward to working with you.
Jimmy Dunn Director of Outreach & Community Life JDUNN@ANNUNCIATIONMSP.ORG