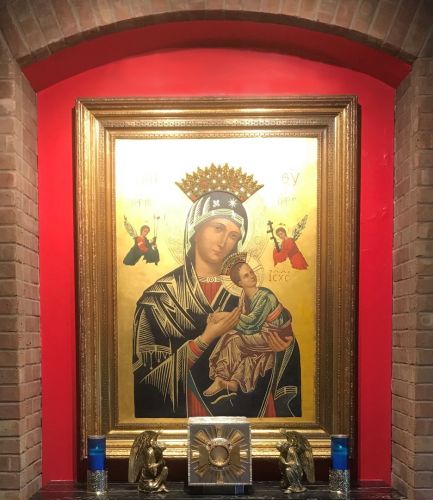 Perpetual Eucharistic Adoration
Schedule your own personal time to be with Jesus, to rest in His peace. All are welcome!

Adoration Chapel Hours
Adorers scheduled 24/7.
Please note: The chapel is not open during Mass times.
Please enter through the Northeast side door (facing the wiffle ball field).
What is Eucharistic Adoration?
Eucharistic Adoration is the devotion to and worship of Jesus Christ truly present, body, blood, soul and divinity in the Blessed Sacrament. Jesus Christ, in the consecrated host, is exposed and people come to pray with and worship Jesus continually through the day and night.
Why Eucharistic Adoration?
There are many great reasons to visit the Adoration chapel, but the most important is to deepen your personal relationship with Jesus Christ and grow in the virtues of faith, hope and love. Jesus wants to give you His peace through spending time with Him. Just as you can't be exposed to the sun without receiving its rays, neither can you come into the Light and Presence of Jesus in the Blessed Sacrament without receiving the divine rays of His grace, His love, and His peace.
What do you do during Adoration?
Time with Jesus in the Blessed Sacrament may be spent in any way you wish. You may bring prayer books, read the Bible, pray the Rosary, journal, or just sit, relax and enjoy the peace that comes from being in His Presence.