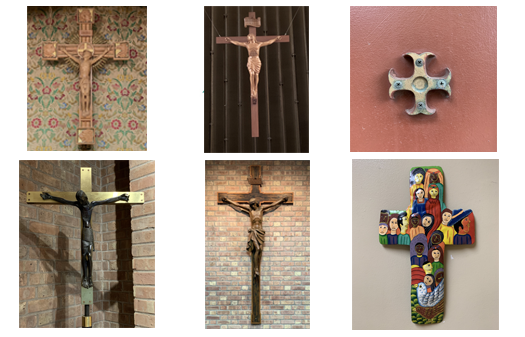 The first Sunday of the month before Mass a speaker will share the organizations mission, goals and programs, they will also be available after Mass in the Community Room during Coffee and Donuts to answer any questions.
A service project for the Under the Cross partner will be offered each month during Mystery Monday (4thSunday of the Month). Our goal is to learn about the good work happening around us, offer our time and talent in a service project at Annunciation or at the highlighted organization. Each month we will also offer a donation to the Under the Cross partner to support their work at building the Kingdom here on Earth.
Donate to Outreach Fund

This Month's Under the Cross Partners:

Flags for Fort Snelling
In over three decades that Minnesota honored every hero laid to rest at Fort Snelling National Cemetery with an American Flag on Memorial Day: A staggering quantity of nearly 200,000 flags and counting.

Join the thousands of Minnesotans in restoring this annual tradition of remembrance in honor of our fallen every Memorial weekend. Every donation, every volunteer, every share makes a difference to our mission. www.flagsforfortsnelling.com

What: Placing Flags at Fort Snelling
Who: Annunciation Volunteers ages 12+
When: Saturday, May 29 - The day will be broken into 4 shifts with the earliest starting at 6am and the latest starting at 6pm.
Where: Fort Snelling National Cemetery
7601 34th Ave S
Minneapolis, MN 55450
What's different for 2021:
1. We have a total of 1,000 volunteers helping us this year, compared to the nearly 7,000 we've needed in the past.
2. Every volunteer will be responsible for placing between 220 - 240 flags, compared to the 25 - 30 flags we've required in the past. Please make sure you are physically able to lift upwards of 20lbs for an extended period!
3. We have divided the day into 4 shifts, which will help us to maintain the social distancing required on Federal Property. Because of the organizational undertaking it would require, you will not be able to choose your shift.
4. You will arrive directly at the cemetery. Once registration is closed, we'll be sending out further instructions on where to arrive based on the shift time you've been assigned to. Please do not arrive early. The timing of everything is crucial to maintain our social distancing plan we presented to Washington. Arrive at your scheduled time.
5. Masks must be worn at ALL times while at Fort Snelling National Cemetery. Since the cemetery is a Federal agency, the President, via an Executive Order mandates the wearing of masks on Federal facilities. If you're not able to wear a mask due to a pre-existing medical condition, we'll ask that you take a break from this year and volunteer again next year.
6. Children 12 years and younger will not be allowed to volunteer this year.Please know that due to the circumstances, we are limited to the overall number of volunteers allowed per shift. Every volunteer who signs up has the responsibility of carrying upwards of 20 lbs of flags, which is something that most children wouldn't be able to do. If you were planning to volunteer with young children, this year may not be the best fit, however, we encourage you to come back next year!
7. No organized groups can register. Due to the restrictions set in place this year, only those from the same household can team up when placing flags. Maintain social distancing. A least 6 feet of distance must be maintained between individuals. Individuals from the same household do not need to maintain a 6-foot distance from each other.
Sign up to volunteer