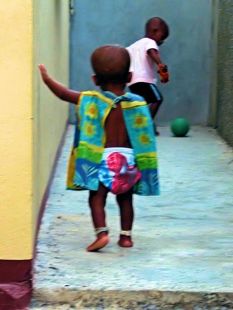 Mission Monday - Eli Project
5th Monday of the Month
Eli is a cute little guy that we had the pleasure of meeting at a wellness center in Port au Prince, on the day that he was sporting a cute little superhero diaper. With a little investigation, we found out that the diaper was made from a gently-used t-shirt and an easy pattern. The Eli Project was started and our volunteers have made hundreds of diapers that we have delivered to Haiti. We welcome your help whether it's one time, every month or when helping-out fits your schedule! We're flexible all are welcome!
"Let the children come to me" - Matthew 19: 13-15. kite timoun yo vin jwenn mwen - in Haitian Creole
When:
5th Monday of the Month
6:00pm-9:00pm
Where:
Annunciation Church
Community Room
If you have one or both, please bring sewing shears and portable sewing machine. No experience necessary!

Annunciation Eli Project Contact Diane Harrington jdharrington1@comcast.net
Sign up for the Monthly Newsletter