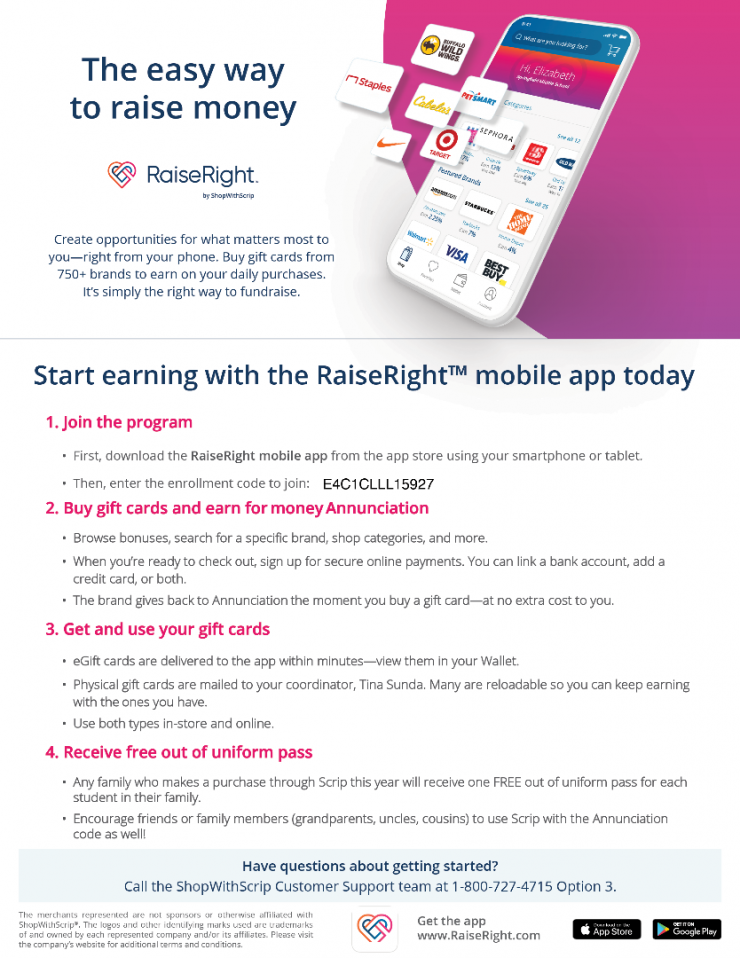 Scrip Program
Scrip is a no-selling fundraising program that allows families to raise money for Annunciation Catholic School. Great Lakes Scrip Center offers gift cards for over 700 of the country's biggest retailers, including grocery, department stores, gas stations, restaurants, hotels, home improvement, and more.
Scrip is simply another way to pay for everyday purchases using gift cards in place of cash, checks, and credit cards. Choose from physical gift cards, e-gift cards or use the My Scrip Wallet app. When you use Scrip gift cards at your favorite retailers, you are fundraising while you shop.
Just by using Scrip to pay for your normal weekly purchases, you can easily raise $500 or more per year. They also make great Christmas presents! It's time to put your shopping dollars to work!
How Does It Work?
Annunciation buys the Scrip from Great Lakes Scrip Center at a discount and re-sells to families for full face value. The discount, from two to fifteen percent, is Annunciation's revenue. It's really that simple!
How Do I Buy Scrip?
Choose from physical gift cards, e-gift cards or use the My Scrip Wallet app.
Go to www.shopwithscrip.com
Click Family Enrollment
Click Join Your Program
Enter Annunciation's Enrollment Code: E4C1CLLL15927
Select the retailer of your choice. You can then select how you'd like to receive the gift card.
view retailer list
view the flyer
Physical gift cards will be mailed to the school and you will be notified when they arrive.
E-gift cards are sent directly to you via email.
My Scrip Wallet allows you to manage all gift cards from the app.
Gift card reload is also an option.
Questions about Scrip?
If you have any questions please contact our Scrip coordinator: Tina Sunda: clsundae@district287.org.