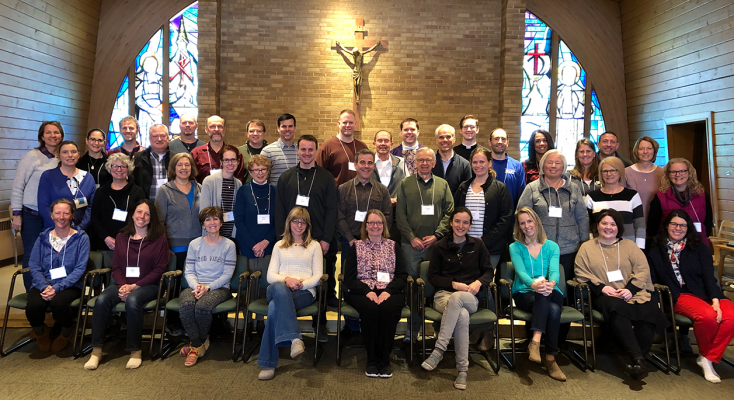 Annunciation Church welcomes you to join us for our biannual retreat called "Annunciation Awakening Retreat" on March 13-15, 2020.
At the retreat you will learn more about God the Father's tremendous love for you and help you establish and deepen your personal relationship with Christ. Come away with us to be with Jesus and experience God's abiding love for you.
Goals of the Retreat:
To help you to yield to the action of the Holy Spirit in your life so that you can begin to experience his presence and him working in you and through you
To help you become a part of a community with whom you can share your Christian life and from whom you can receive support in that life
To help you make use of effective means for ongoing growth in your relationship with Christ
Benefits of coming on the Retreat:
Renew, or deepen a relationship with Jesus
Fuller participation in Parish Life
Greater appreciation for the Eucharist and Reconciliation
Deeper prayer life
Greater love for Scripture
Grow in the Gifts and Fruits of the Holy Spirit
The Retreat will include:
Mass
Confessions opportunities
Eucharistic Adoration
Communal Prayer Times
Music
Talks & Testimonies
Small Groups/Fellowship
Time for silence & rest
Dates: March 13-15, 2020
Depart Annunciation: 3:30 pm Friday
Return to Annunciation: 3:30 pm Sunday
Costs: Free Will Donation. All accommodations, meals and Coach Bus transportation are included!
Where: Dunrovin Retreat Center, St. Croix, MN. For more information on Dunrovin, please visit their website: www.dunrovin.org

The Annunciation Awakening Retreat is available for everyone 18 and older (you do not have to be Catholic or a parish member).
Questions?
Please contact Ashleigh Varley at 612-824-9993 ext 256 email avarley@annunciationmsp.org or Nicole Bettini at 612-824-9993 ext 251 email nbettini@annunciationmsp.org.