APO's Annual Winter Greens & Poinsettia Sale is now open!
WinterGreens for Sale: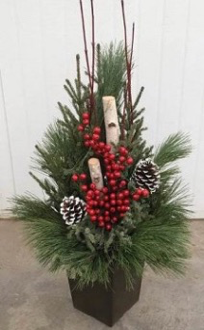 Holiday Planter: $40 each
11" pot filled with mixture of winter greens, stems of
red dogwood, pinecones, decorative berries and birch.
The finished height is approximately 30 inches.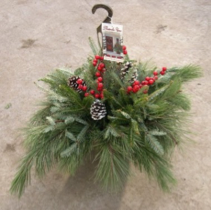 Holiday Hanging Basket (New!): $30 each
Hanging pot filled with a festive mixture of winter greens, pinecones, and decorative berries.
Includes hanging hook.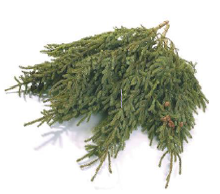 Spruce Tip Bundles (10 tips): $25 bundle
Create your own planters or window boxes with spruce tips.
Ten spruce tips per bundle.
25' Balsam Garland: $30 each
Beautiful fresh balsam garland to adorn inside or outside.
25' in length per garland.
Poinsettias for Sale:
6.5" Poinsettia (Approx. 14" Plant Diameter): $12 each
8" Poinsettia (Approx. 18" Plant Diameter): $22 each
Poinsettias are in beautiful glittering pot with snowflake pattern.
The pot is waterproof and will be accented with organza.
Poinsettias can be ordered in colors: Red, White or Ice Crystal.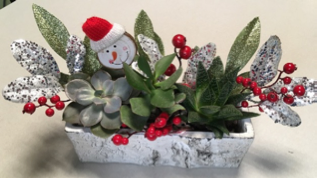 Holiday Succulent Garden: $30
Faux birch planter with live succulents and seasonal accents.
Planter is 8" wide x 3.5" deep. Plant varieties will vary.
To Place Your Order:
Place your order online (click here) by Saturday, Oct 17th. Orders must be pre-paid. Please contact Heather Mueller (heather.e.mueller@gmail.com) or Christy McFadden (christy_rn@yahoo.com) if you prefer to non-digital order or to pay via cash or check.
Pick-Up:
Orders can be picked-up in the school courtyard off of 54thStreet (across from Autozone) on
Sunday, Nov 22ndfrom 9am-1pm.
Delivery Option:
Take advantage of our delivery option and have your order brought directly to your home by an APO member! $15 per delivery/address of which 100% goes to Annunciation. Just select delivery as part of your order, if interested.