Annunciation Book Fair with Wild Rumpus Week of January 25 – January 30th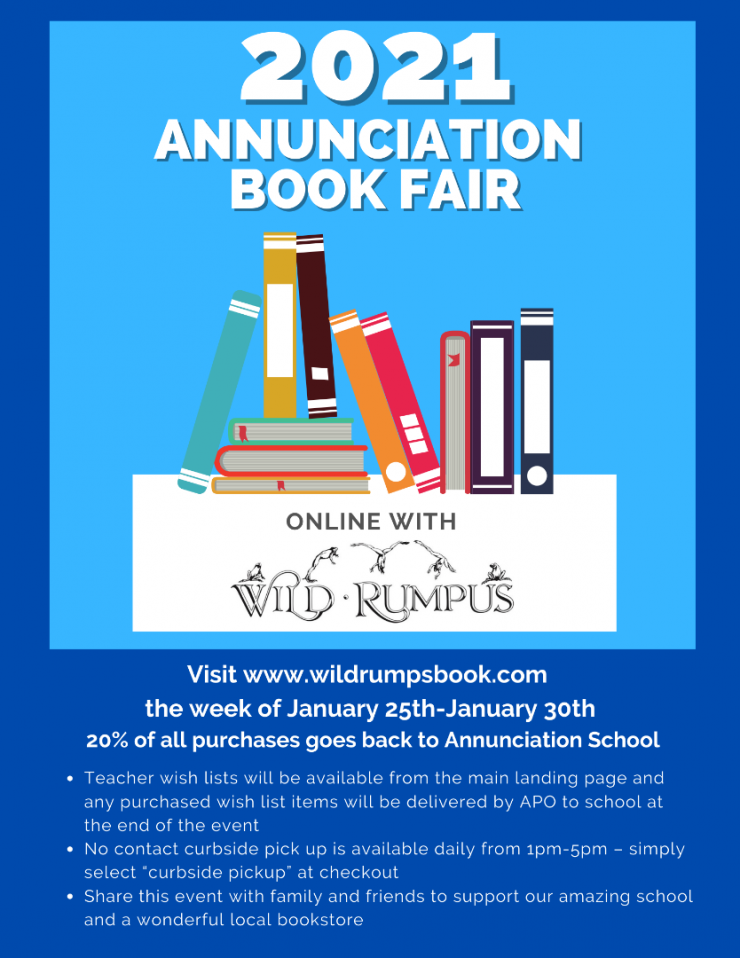 Annunciation Book Fair with Wild Rumpus
Week of January 25 – January 30th
Online at: www.wildrumpusbooks.com
Save the date for our annual book fair (virtual edition!) This year we are excited to partner with local bookstore Wild Rumpus for our bookfair. Purchases can be made online the entire week January 25th-January 30th.

Please visit www.wildrumpusbooks.com starting January 25th. From the main landing page, you will see links to teacher wish lists and book recommendations. 20% of sales will go directly back to Annunciation School in the form of a gift card to Wild Rumpus. Please share with family members and friends to support our school and a wonderful local business.

Online purchases are available for shipping or free curbside pickup. No contact curbside pickup is available daily from 1pm-5pm; simply select "curbside pickup" at checkout if you would like this option. You will receive a confirmation email when your items are ready for pick-up. Any items purchased directly from a teacher's wish list will be picked up by APO at the end of the event and delivered to school; any wish list purchase will include a "donated by" card insert with the family's name from the purchase/donation.