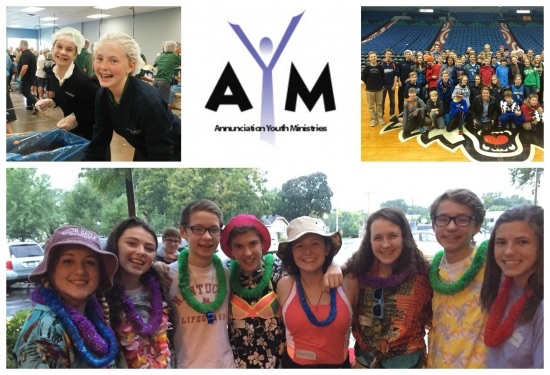 As Jesus was walking besides the Sea of Galilee he saw two brothers, Simon called Peter and his brother Andrew. They were casting a net into the Lake, for they were fishermen. "Come follow me," Jesus said, "and I will make you fishers of men." At once they left their nets and followed. - Matthew 4:18
I have been a witness to this scripture passage every May, when an invitation to Junior High youth was issued to drop their nets and respond to a call to experience wacky games, water drenching events and outdoor baseball.
The goal of Summer Hoopla is to establish a foundation of respect, integrity and acceptance through relationship building. Over the next few months the Junior High Adult Leadership Team and Peer Ministers (High School Junior and Seniors) will build healthy role model relationships with your child, while being positive, silly, goofy, serious and faith filled. If successful, your child will feel at home at Annunciation and they will be an active participant in the school year programming.
Jesus' invitation to Peter and Andrew asked them to walk away from it all, to trust Him for their future, to trust Him with their lives. The invitation from Annunciation Youth Ministries to Junior High youth is to be themselves and be a part of a caring faith community. To have questions, to step outside of one's comfort zone, to put the needs of others before your own, be in positive friendships and to explore a deeper relationship with Jesus. As you continue to read the events planned on the following pages, you will find that we have planned an exciting, joy filled, positive, challenging, awesome, unbelievable summer and I look forward to sharing it with your child.
Peace in Christ,
Bernie Gauthe